T-7A Red Hawk and TA-4J Skyhawk, advanced jet trainers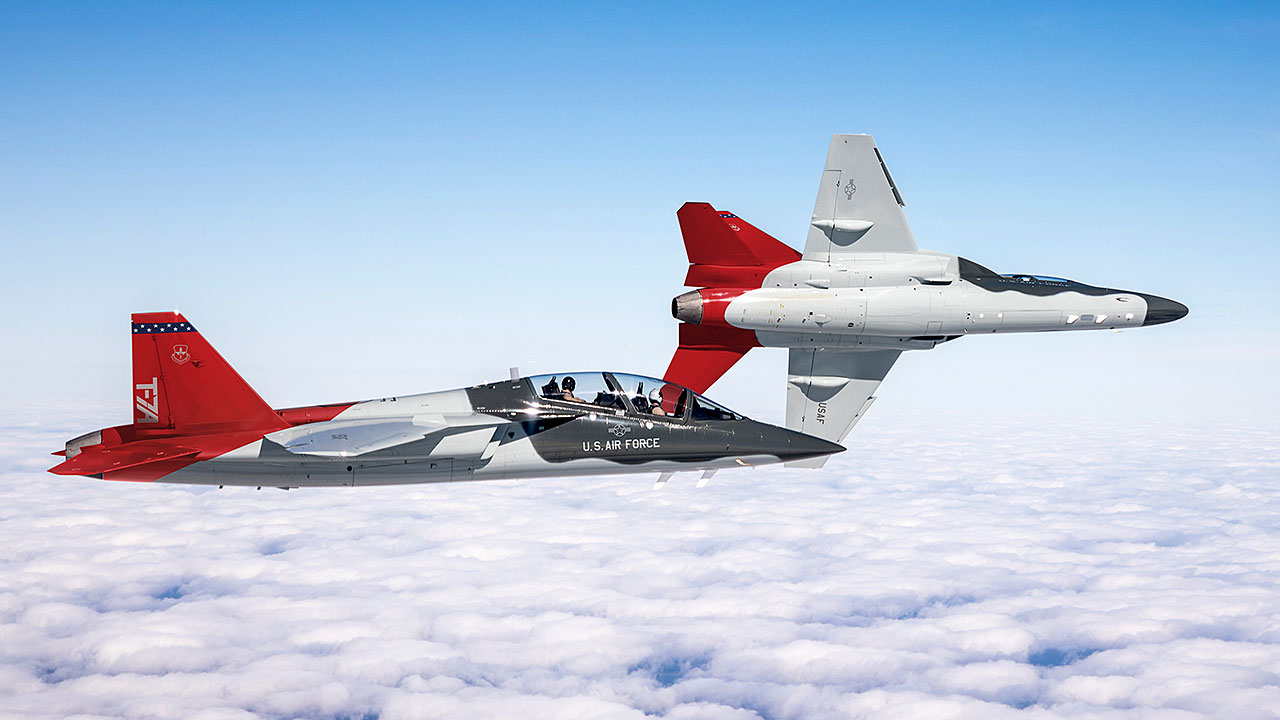 New and Old…
I was driving to Lambert Field, St Louis's International Airport today, a beautiful clear day. As I approached from the south I looked up and saw a brand new T-7A Red Hawk streak across the blue sky. It was not a surprise, because Boeing builds them at Lambert. What was a surprise was the TA-4J Skyhawk that was chasing it.
The T-7A is the new advanced trainer for the USAF. A big winner from everything I've read and heard. Why I was surprised by the Skyhawk, is it is from my day. The TA-4J Skyhawk was the USN Advanced Strike Trainer. I flew it for 3 years and got 1,100 hours and 40 or so traps (carrier landings) on 8 or 9 carriers. I loved the Scooter, it was fun to fly. The roll rate was 720 degrees a second, that's twice around! You didn't get in a Scooter, you strapped it on. The Skyhawk was replaced by the T-45 Goshawk starting in the early 1990s.
All of these great aircraft were or are being built at Lambert Field by Boeing….the Skyhawk was actually designed by Douglas…which was bought by McDonnell…to become McDonnell-Douglas (T-45)…which was bought by Boeing. It was fun watching the old Hawk fly with the new.
As a side note, Lambert Field was also a Naval Air Station, NAS St. Louis became a reserve base after WW2 and served as such until 1958. Those who have read my second book, Vengeance at Midway and Guadalcanal, read about NAS St Louis in early WW2. My next book in the Aviator Series, Cold War Hot (#5) features NAS St Louis as it's Naval Reserve Squadron gets prepared and then activated for the Korean War.
Your humble scribe, in front of the McDonnell designed, McDonnell-Douglas (St Louis) built… F-4 Phantom II